Funny Business In The Mountains Sees Growth
As long as there's a stage, there's really no telling where a comic can be found—even in areas like Western North Carolina—where local talent has flourishes, and local business captures part of a $300 million industry. BPR'S Davin Eldridge takes a look at the comedy scene of the mountains.
______________________________________________________________________________________________
Author's Note: Check out our exclusive full-length interview with hit stand-up comic Drew Lynch at the bottom of the page. Lynch, who finished second on America's Got Talent, recently performed in Cullowhee.
COMEDY IN THE MOUNTAINS
Twenty-one-year-old Frank Henry is an aspiring stand-up comic from Asheville.
"One time I was on Coxe Avenue, and I was walking down, and there was this guy in front of me that was walking kind of slower," said Henry, looking up into the air above him, searching his memory. He swiveled playfully from left to right in the office chair. "And, he kept looking over his shoulder, and finally I catch up to him. And he looks at me and he says, 'you need some weed, big man?'. I didn't need any weed. I don't smoke weed… But I like being called big man. So, I'm kind of torn, you know what I mean? I'm trying to add to that more."
He's tall and slightly lanky, and damp from walking a few blocks in the rain to Blue Ridge Public Radio's studio, in downtown Asheville. In a way, Henry kind of looks like a young Michael Rapaport did in the film Cop Land.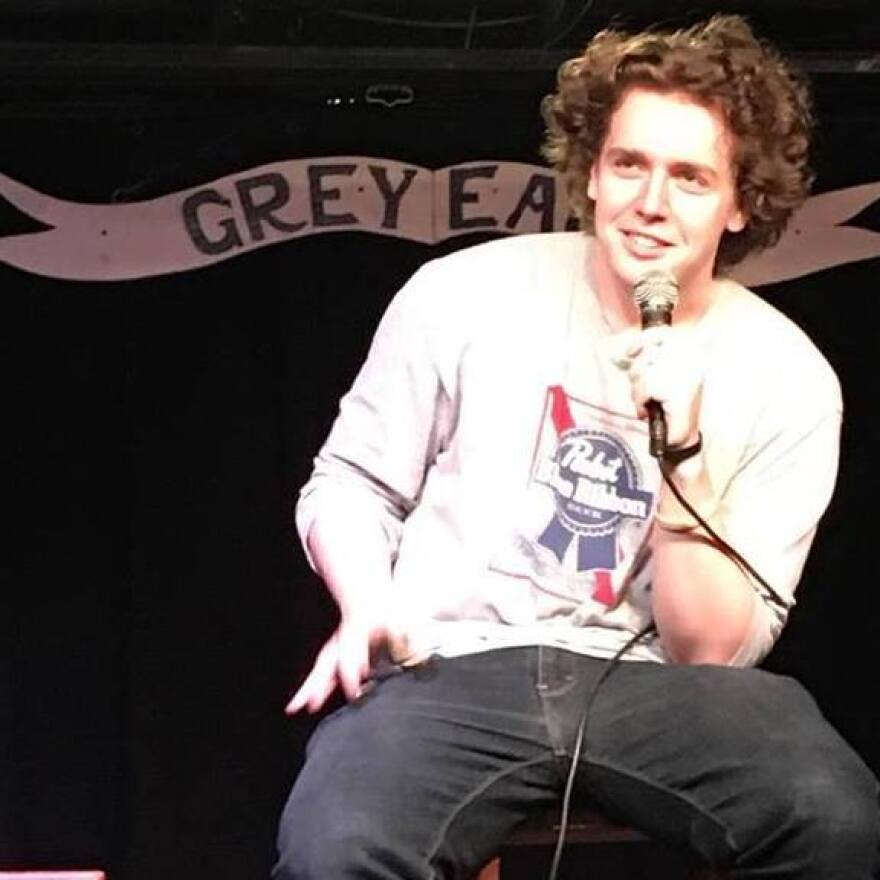 For the last six months, he's been getting onto as many stages as he possibly can.
"I kind of have to do standup as much as I can, every night, because if I'm not I'm just being lazy," he said.
Henry wants to see how far his jokes can take him. It's a constant obsession. An addiction. An unending pursuit for laughs. A quest to get just a little bit better, a little bit funnier, each and every night—and it can only really be achieved by having just one more set. One more night on stage.
"In stand-up you get to show who you are, but it takes a lot of time and practice to be yourself, and be good at it," he said. "It's about minutes, and the number of times you've been on stage."
THE 'BEER CITY' COMEDY SCENE
The mountains aren't really known far-and-wide for their comedy scene, but Henry says that's changed in recent years, largely because of Asheville itself—where a comedy show can be found just about every night of the week. In August, the city had its eleventh annual Laugh Your Asheville Off comedy festival—a four day event often billed as the Southeast's largest.
"Asheville is on the map," he said. "The comedians are generally pretty supportive of each other. They still have their cliques. Those are generally divided by experience."
One place Asheville comics get that experience is One World Brewing. It has an open mic every Monday night, but as local comedian Ryan Cox will tell you, it's venues like this which often make for the toughest rooms.
"These people want to hear some jokes," said Cox.
"No, I want to hear some music!" said a nearby heckler.
"I can maybe sings one jokes," said Cox. "There's two things that I'm sure about, like, I want to work from home, and I [expletive] hate doing homework."
...Crickets...
"Yeah," he said, with a wan smile. "Started strong."
As cringe-worthy as that was, sets like it are actually rather common, according to Cox, who says most local comics seek them out precisely because of how rough Asheville crowds can be. It's all about the challenge of turning the crowd around:
"I don't think I'm better than anybody," he said. "Except for people who ride segues."
Finally, his joke was met with some laughter, but the clank of glasses and idle chatter of the bar prevailed. With little attention on Cox, he was a little more at ease.
"You ever notice a kid on a scooter has the world in his hands, but a grown man on a scooter, has a DUI?" said Cox.
This time the laughter came rolling back at Cox, who was met with glazed-over surprise by at least half the bar.
"It's just weird to see comedians try to do these rooms, because they're super hard," he said after his set. "This is like, I just want to get better and fight for attention. If you get any laughs, it's worth like ten-fold. I just love the pressure of it."
Strong as Asheville's scene is with local comics, it's a scene thriving without an actual, full-fledged comedy club. Instead, its stand-up community relies almost entirely on the city's nightlife, where there's plenty of microphones, stages, and inebriated crowds to choose from.
"If the rent wasn't so high in Asheville, I would say this is a fantastic place to learn to get really good at stand-up, because you can get on stage, double digits every week," said Henry. "You'll have a crowd, most of the time, and you're going to get reactions from your material."
There's at least nine events scheduled throughout the week, in one of at least seven bars or clubs, for local comics to choose from. Some are open to anyone, like the open mic at One World Brewing, but with as many musicians and poets as there are in Asheville, comics are typically outnumbered at those. But then, there's other venues, like The Odditorium on Tuesdays, or The Southern Kitchen and Bar on Wednesdays, where actual bona fide comedy nights can be found.
"LAUGHING ALL THE WAY TO THE BANK"
According to Nick D'Antonio, chef and general manager of The Southern, stand-up has proven to be a good fit for downtown businesses like his.
"It's been pretty consistent," he said. "It's been a staple here. There's a good local crowd that comes out."
The Southern began hosting the Disclaimer Stand-up Lounge at its downstairs bar shortly after it opened seven years ago. He says without an actual comedy club in Asheville, establishments like his have served to incubate stand-up at the regional level… And stand-up, he says, has been good for business.
"The need was definitely there," the chef said. "It's just been something that's comfortable. We do have some comedians that make the trip up. There's probably a dozen local comics that will cycle through any given night. But for the most part there's two or three out-of-towners."
Another business capitalizing on the 'need' for comedy is none other than Funny Business Agency—a national comedy booking agency which produces a monthly stand-up series at Asheville's Grey Eagle Music Hall and Pub. The agency also produces a 'Best of Asheville' comedy showcase once every year.
Agency owner John Yoder remembers when Asheville had its own comedy club, because it was his company that put it together. When it opened in 2009, it was called Funny Business Comedy Club, located at the bottom of the S&W Building. Every Friday and Saturday, it was the place to catch a comedy show in the mountains. A year later, it closed, he explained, and since the agency's moved Asheville's major comedy nights from Asheville Brewing in the Millroom to where it operates today--The Grey Eagle.
"Finding a venue with seating of 150 to 250 isn't easy here," he said in an email. "There are many smaller spaces, but Funny Business wanted to do shows with professional comedy with TV credits. There is a great flourishing open mic and amateur shows in town, but they have focused on professional shows."
In Yoder's opinion, Asheville's comedy scene has stayed consistently busy. In fact, he said stand-up shows have become more frequent in "Beer City", but despite how good its market and audiences are for comedy, its overall size has held it back.
"Funny Business has always kept an eye to partner with a venue for full time comedy club," he said. "The size of the market could only support a Friday to Saturday club, in my opinion. Bigger name acts play The Thomas Wolfe Auditorium or the Diane Wortham Theater. The Orange Peel has been doing shows as well."
The agency books around 40 major standup acts in major companies every week, according to Yoder, and he says Asheville's no different. Over the years Funny Business has brought comics like AJ Finney, Bobcat Goldthwait, Jarrod Harris, Sara Schaefer, Steve O, Tom Green, Tom Simmons, and Wyatt Cenac, among others.
OUTSIDE LOOKING IN: HOW MOUNTAIN STAND-UP STACKS UP
Another "out-of-towner" to recently check out mountain stand-up is Boone area comic Matt Adam-Houser, who recently performed at an Asheville open mic while visiting an old friend from college.
"I'm always under-utilizing hypothetical superpowers," he said at the open mic. "Man, I really wish I was invincible, so I could eat salt and vinegar chips all day. Man, I really wish I had super intelligence, so I knew when to get the [expletive] off stage. Man, I really wish I could bend space and time, so that this bed sheet would stay on my mattress."
Like Cox, it took Houser a few bits before he began winning some chuckles from the bar.
"It was definitely a pickier crowd," he said after his set. "You can tell they're the kind of crowd that only expects music, which is fine. I came here expecting that from an Asheville crowd. There's a lot of towns in North Carolina that have a lot of creative-types. It must be in the water."
After starting out in the Chapel Hill-Raleigh area four years ago, Houser's done stand-up across the state, as well as a few shows in cities like Austin and San Francisco. He can say from his short stay in the region that the mountain comedy scene has a lot to be proud of.
"When I came here initially I assumed there wouldn't really be any kind of stand-up scene," he said. "But there's actually a good community here. There's mics here every night of the week. It has the appeal of a lot of cities."
Every stand-up community that Houser's ever encountered has, on some level, been supportive of one another. At the same time he says the bigger the city, the more competitive it is.
"There's a law of number thing going on," he said. "That's why you don't think of comedy as a rural thing. Comics need to go where the people are. Where it's miserable."
And while Asheville itself is hardly the size of Raleigh, he thinks having its own comedy club would help take its scene to the next level. Houser points to The Idiot Box, Greensboro's formidable comedy club, and The Comedy Zone in Clayton—both clubs established in towns comparable in size and scope to Asheville. That aside, he says there's one other important factor to consider.
"The great Doug Stanhope in one of his specials recorded in New York City said that reason he was recording it there was because it was the most miserable place on the planet," he said. "You don't do comedy in Hawaii, or places that are happy. Everyone's already smiling. They don't need it."
Houser believes what makes for fertile ground in comedy is a confluence of tragedy and culture. He points out the distinctive Appalachian identity, the long and sordid history of the region, as well as the economically depressed areas of Western North Carolina as prime examples.
"That makes the area need stand-up more. That might be the reason Asheville seems to have a fairly vibrant scene even though they're a relatively small community."
Whether it's Asheville's comedy festival, or its surplus of comics or stages, or just its growing reputation—what really puts Beer City on the comedy map are the major acts it gets. Over the years, the likes of Jerry Seinfeld, Kathleen Madigan, Colin Quinn and Bill Maher to name a few, have performed at its larger venues.
One up-and-coming comic is Drew Morgan, originally from Eastern Tennesee. Morgan makes up one third of the of the WellRED Comedy Tour—a trio of comedians that prides itself on being both progressive, and, well, rednecks.
"I live in New York, I'm from Tennessee," he said at an Orange Peel set. "It's weird up there like that, being from the south. People can't understand me because I got an accent. I'll say, 'let's discuss Bernie Sanders immigration policy', and they'll hear 'he's going to say racist shit. Let's leave. I don't think that's fair."
Morgan will take the stage at the Orange Peel this January, along with the remaining two-thirds of his act, Corey Ryan Forrester and Trae Crowder, better-known as the Liberal Redneck. He says performing comedy in the south can, just in general, be a different kind of experience.
"If you're coming up in a scene that's small, there's going to come a point where you need to hit the road," he said. "The way that the south is unique, once you start doing those road gigs are very different, depending on where you are in the United States."
As far as he can tell, the south has more bars to perform in, some of which can be dirtier, or rougher, like biker bars. Nevertheless he stresses all people have problems, and so comedy has the capacity to reach them all the same. The trick for comedians, he said, is figuring out how to be themselves for different audiences--something that only comes with time and practice.
"The unwritten rule where you either lean into the 'southerness' so much that that was their whole identity," he said of conventions of southern comedians. "That meant not doing politics. That meant not doing social commentary too much. Or you dropped the accent altogether, and you let go of that 'southerness'."
Morgan and his crew are proud that they figured out how to break that convention so they could be themselves, and part of what they aim to do with their work is representing more rednecks with a similar worldview to theirs.
"There's more of us out there," he said. "Believe it or not."
THE REST OF THE WEST
Monthly stand-up nights can occasionally be found in towns like Hendersonville or Waynesville, and more major acts routinely make their way into the more rural areas of the mountains, like the college town of Cullowhee.
"I'm okay with my voice, but I still struggle with some things. Like, I still have a hard time ordering at a drive-thru."
"I'm Kevin Hart, I've been doing this for 35 years... No, okay, I'm Drew Lynch. I'm 26. I've been doing comedy for six years."
Back in 2015, Lynch—who has a speech impediment— was the second-place runner-up of America's Got Talent. At a stop at Western Carolina University, he says the mountains are as good a place as any for comedy.
"I think comedy can happen anywhere. Especially if you can write strong enough jokes that are personalized. That's what comedy does, it's supposed to bring people together by either saying 'I was an idiot in this situation', or 'this is a commonality we share'."
Comedy legend and Brevard resident Steve Martin once said of stand-up that he did it for a total of 18 years; ten of which he spent learning it, four he spent refining it, and four years he spent in wild success. "The course," he said "was more plodding than heroic.
drew_lynch_full_interview_1.mp3
Comedian and America's Got Talent second-place finalist Drew Lynch speaks with BPR News's Davin Eldridge.
Music in story's lead is public domain, and was produced by Chuki Beats.