What Does A Performance Festival Feel Like Online? Asheville Fringe To Find Out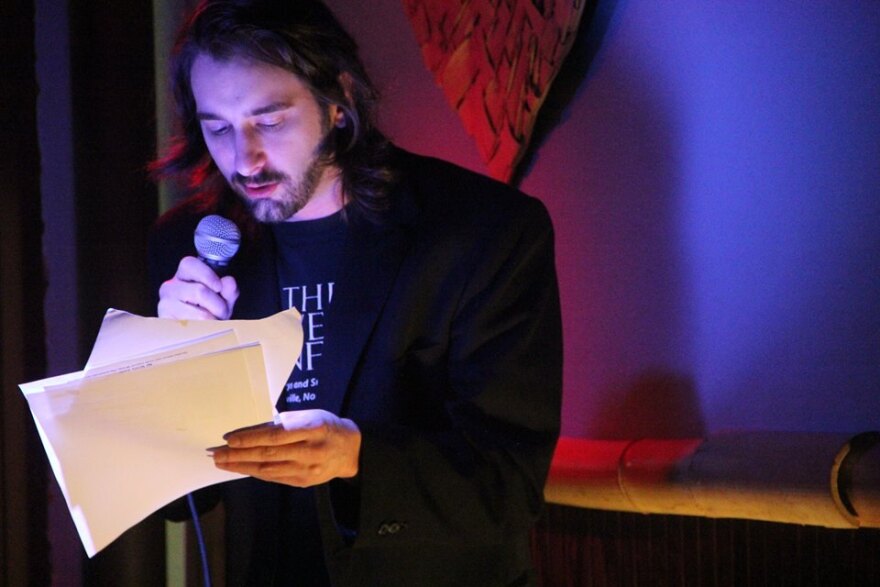 Last March, when the public still grasped the reality of a pandemic, Katie Jones looked at the calendar and thought the Asheville Fringe Festival, which she directs, might have to do things differently in 2021.
"Our initial thoughts were actually that we might just cancel altogether," Jones said.
Over the next several months, Jones watched how Fringe Festivals elsewhere handled the realities of social distancing.
"We decided we can still make a really good festival if everything's virtual," she said. "And so we just need to focus on that because it's the safest and most responsible, but we can still provide really good content."
Most of the 19th annual Asheville Fringe Festival happens online—some performances are live, some pre-recorded, and you'll actually have to leave your screen to see others, happening at various outdoors locales. It runs Wednesday through Sunday.
Caleb Beissert has a head start in this new reality. He's an Asheville poet who has been hosting his weekly open mic nights online since the pandemic started after throwing them for a decade at the Sovereign Kava Bar.
"Doing the virtual show has really all pushed us as artists, and the other trick is how to make it come alive and how to make it different and how do you make it feel like a show," Beissert said. "It started to click for us is when we realized we're not recreating a live experience. We're working in a totally new medium."
Poetry Cabaret is a live show featuring Beissert and five other poets, a dancer and a musician in a show with a meta narrative of sorts built for these times—a post-apocalyptic situation in which the poets are having trouble connecting with one another online.
"The important part is being able to have the live music and dance with the poets, which can be challenging with people's internet connections with a little bit of delay," Beisserts said. "But we had the advantage of having that dialed in a little bit already."
Jenni Cockrell is a dancer focused on the intimate, improvisational and, at times, melodramatic form of butoh. The one-to-one dances she had hoped to perform for this Fringe were scuttled by new pandemic restrictions. She wouldn't consider moving to a virtual stage, so her performances will now happen outside.
"With butoh, you're not going to shy away from something that's difficult. If it's raining I'll be there. If it's snowing I'll be there," Cockrell said. "Dancing through that discomfort is part of that experience as the performer."
A dance troupe podding together in Leicester just this past week canceled its multi-camera production for the Fringe after a member of the collective tested positive for Covid. Jones, the festival director, battled her own bout with Covid in December.
Barring other such surprises, the festival will feature more than two dozen other productions, from artists around the country and beyond, across puppetry, theater, comedy, dance and storytelling, along with several film screenings.