Through Troubled Childhood, Rebecca O'Quinn Found The Arts. She Found Family In Asheville
At a rehearsal in the Woodfin dance studio of the Asheville Ballet, Rebecca O'Quinn is watching two middle-aged women rehearse a duet O'Quinn created around the prop of an overstuffed loveseat.
"They kind of take turns running around the couch and flipping over the couch, and are in relationship with each other, and it's not clear what the relationship is," she said of this dance work, part of an Asheville Ballet program May 17-18 at Diana Wortham Theatre in Asheville.
That unclear relationship could be a metaphor for O'Quinn's own artistic path.
She studied classical piano as a child in Cary, N.C., formally studied dance throughout her teens, earned an undergraduate degree in theater and dance and wound up traveling the world performing on cruise ships.
All along, she fostered another dream, to sing country music.
"I see country music as a secular form of southern gospel music, and that feels like roots," O'Quinn said.
Then in her mid-20s, O'Quinn came to Asheville in 2012 expecting yet another temporary layover along her path of impermanence. She thought she would become a country and bluegrass singer here, but the Asheville Ballet gave her something she hadn't counted on.
"Knowing people for longer than six months at a time and figuring out what it meant to really be in long-term relationship with people," she said, "I really felt like I had found a family where I did not have one as a child.
O'Quinn is smiling and relaxed as she watches her creation unfold.
"When I try to choreograph about something very specific, it never comes out the way I want it to," she said. "I use a personal experience as a catapult. And then I'm going to create movement and see where it goes. Sometimes I don't know what a dance is about until I'm three-quarters of the way choreographing it, and I'll say to my dancers 'Ahh, I figured out what it's about today.'"
O'Quinn has pieced together her living largely through dance -- she's an adjunct teacher at Mars Hill University -- but dreams of singing her own country music have been slow to simmer. Only in the past year has she given life to her band Rebecca and the Reckoning, which for now performs a mix of well-known songs and O'Quinn's original compositions.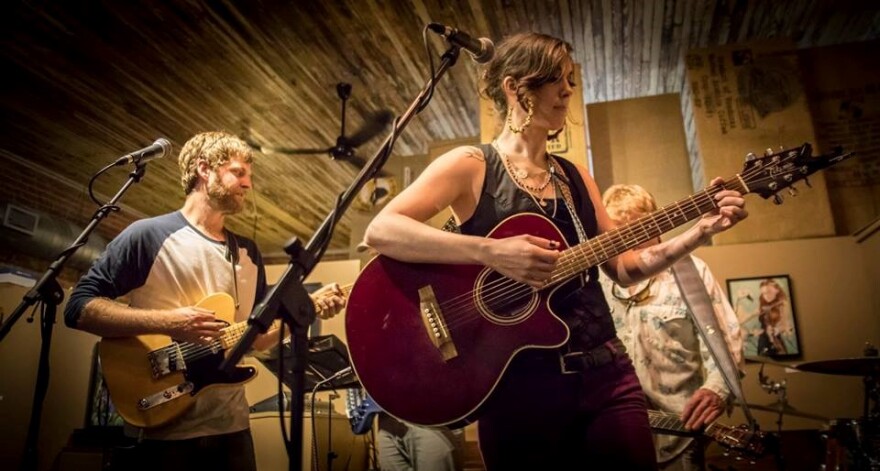 "Sometimes I'm not a great initiator. Part of me is more introverted than I thought when I was younger," she said. "I didn't even think making country music in this town was possible. I came back just going 'Man, I kinda don't care if Asheville's receptive or not, this is what I do,' and maybe they'll be receptive to it if I just do it really well and really earnestly and really authentically."
O'Quinn is pursuing a master's degree in mental health counseling and says it's part of a life transition still in process. Wherever the counseling career takes her, she intends to add that to her already crowded plate of pursuits rather than give anything up.
"I really don't like to put all of my eggs in one basket. There is a little bit of fear, just of not being good enough at any one thing," she said. "I'm transitioning in what I look for in relationship with other people and I'm transitioning in a lot of self-worth, and if you can transform yourself internally, then you can make better art."