COVID-19NC: School & Social Distancing Decisions Expected Soon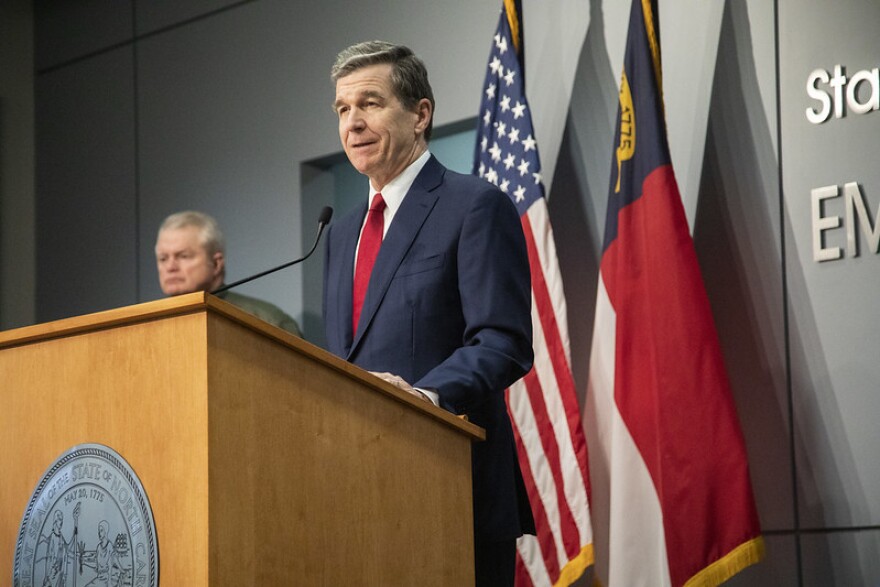 During Tuesday's briefing, Governor Roy Cooper announced an Executive Order that will provide relief to furloughed workers who are unemployed and addressed the need to make more funding available for small business owners through the Golden LEAF Foundation's Rapid Recovery Program. The governor also said officials are getting ready to announce details about what will happen when the state stay-home and school closure orders expire.
FIND THE LATEST COVID-19 CASE COUNT IN NORTH CAROLINA HERE. FOR ANSWERS TO FREQUENTLY ASKED QUESTIONS ABOUT THE CORONAVIRUS CLICK HERE.
Below are excerpts from Governor Cooper during Tuesday 's briefing:
"I know how frustrated and anxious people are about wanting to get back to school and wanting to get back to work. And at the same time, I know how anxious families are to make sure that they are safe from this highly contagious virus that can take lives. We are working to ease restrictions in a responsible way, in a staged way. "
"We'll be bringing forward this week more specifics on that plan to move forward and what trends, testing and tracing that we are going to be looking at in order to begin the process to ease the restrictions. We understand that stay at home, we can't stay at home forever and that this is not something that is sustainable long term, but what we have to do is to ease back into it, to make sure that this virus does not spike, which it very easily could do overwhelming our hospitals. "
corona_cooper_4_21_2_questions.mp3
Governor Roy Cooper and state officials answer questions from reporters during Tuesday's Coronavirus Task Force briefing in Raleigh.
"We'll be making an announcement (this week) regarding the executive orders that are in place and set to expire at the end of the month. There will be an announcement soon regarding schools.(closed until May 15) Our public health team is, is looking at what is needed in order to be able to make sure that children are safe at school. We're talking with the school superintendents, with the state board of education, with the department of public instruction about what kinds of things we could do to make sure that we would keep children safe. " .
"We know this virus is taking a serious toll on our economy and workforce, and we can't lose sight of how this virus is impacting families in North Carolina. I've signed a new Executive Order today to help furloughed workers whose employers have paid them a severance or furlough payment. Before this order these employees were ineligible for unemployment compensation. With this order, they now qualify."
"We are working with legislators to try to codify into law this order and my other orders on unemployment benefits. Next week when the General Assembly returns, we hope to get consensus on more help for North Carolina. We also know that our economy, working people, small businesses and state and local governments need financial help. Our team is compiling recommendations for how we allocate the first share of federal money that has come down to our state from Washington.
"General Assembly leaders and I agree that we need to make more funding available for small business owners. And we'll do that by providing funding to the Rapid Recovery Program through the Golden LEAF Foundation, which is up & running and can act quickly to get funding to people.
"Small business is the lifeblood of our economy, and many who built these businesses are struggling. We owe it to them to help keep them afloat until it's safe to begin easing restrictions. This money now is important in that federal small business money has been depleted.
"Our budget proposal has three broad areas of focus: first: immediate public health and safety like testing and tracing of the virus; two: schools and other core state government services; and three: small business and local government assistance.